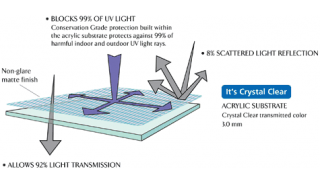 Conservation Reflection Control®
Conservation Reflection Control® Acrylic with its UV filtering technology protects artwork from the harmful effects of light and distortion of glare. Over time, the ultraviolet rays in everyday indoor and outdoor light take a toll on artwork. Paper can become faded, discolored, and brittle, causing irreversible damage that ruins the artwork. Conservation Reflection Control Acrylic with 99% UV protection helps protect art from fading by blocking harmful indoor and outdoor light rays, preserving art for years longer than regular acrylic. The reflection control matte finish gives you glare-free viewing, allowing a clear view of the framed artwork without distortion.
Technical Info
Available in 3.0mm thickness
Provides glare-free enjoyment with 99% UV protection
Lightweight, durable acrylic
Crystal Clear transmitted color
Water-white colorless edge
When To Use
Any framing project that would benefit from lightweight acrylic with glare reduction and 99% UV protection
Care & Handling
Handling
Cotton gloves should be worn to minimize fingerprints and other particles.
Acrylic sheets are covered with a protective white poly film on each surface. This film prevents scratching during handling and cutting and should be left in place on the sheet as long as possible. To remove the film, start at one corner or side and roll the film on to a scrap cardboard core or on to itself. The film should never be exposed to excessive sunlight or outdoor conditions for extended periods of time.
Cleaning
Use an acrylic cleaner and a clean damp cleaning cloth. Apply only light pressure, rinse with clean water, or a cleaner designed specifically for acrylic, and dry by blotting with a clean, damp cloth or chamois.
Do not use dry or gritty cloths, they may cause surface scratches and create a static electric charge on the surface.
Do not use glass cleaning sprays, kitchen scouring compounds or solvents such as acetone, gasoline, or lacquer to clean acrylic.
Cutting
Place the acrylic sheet on a clean, dust free work area.
Cover the work table with a soft, clean, lint free felt.
Use a Multi-Material Cutter "scribe & break" method to cut the acrylic sheet.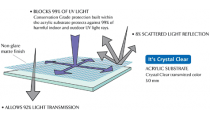 Conservation Reflection Control® Acrylic with its UV filtering technology protects artwork from the ..
Showing 1 to 1 of 1 (1 Pages)