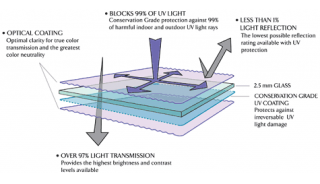 Museum Glass®
Museum Glass® anti-reflection picture framing glass with Conservation Grade UV Protection is the best glazing option available for art, photographs and other important personal keepsakes. Along with its nearly invisible finish, it effectively blocks up to 99% of harmful indoor and outdoor UV light rays so framed pieces remain clearer and brighter for longer.
Technical Info
Reduces reflection by over 85% (to less than 1% of total light), the lowest possible reflection rating available with UV protection
Achieves over 97% light transmission to enhance colors, brightness and contrast levels
Blocks up to 99% of UV light rays
Meets ISO 18902 and passes ISO 18916, by providing at least 97% UV protection
Does not degrade or delaminate over time. Tru Vue uses a proprietary inorganic, silica-based UV blocking coating, which is "baked" into the glass producing a permanently bonded coating.
2.5mm glass substrate
When To Use
For virtually invisible glazing that will enhance colors, brightness and contrast levels of all types of artwork, even posters
For protecting valued diplomas or irreplaceable artwork against damage and fading caused by UV light
Ideal for framing applications including shadow boxes, multiple mat or deep framing projects
Care & Handling
Handling
Glass should be handled with care. To avoid injury cotton gloves should be worn.
Avoid dragging the lites of glass against one another when removing from the box.
Do not slide the lite of glass into place. Lift it up to adjust reposition.
Cutting
Place a slip sheet or a non-slip matboard between the glass and the back of the wall cutter.
Do not score the UV coated side. The inkjet printing stating "this side faces artwork" indicates the UV coated side.
Place the lite of glass in the wall unit with UV coated side toward the wall, facing the slip sheet or matboard.
Keep the glass cutter clean of glass chips by brushing away fragments frequently with a horse hair brush.
Cleaning
All of Tru Vue glass products are clean and ready to use. If spot cleaning is needed use the following techniques:
Place the glass on a clean, non-abrasive surface for cleaning.
Use a clean, soft, lint-free cloth to clean the glass. Tru Vue recommends using a micro-fiber cloth.
Spray a small amount of ammonia-free cleaner onto the cloth. Spraying on the cloth will prevent overspray.
Press the cloth against the glass and clean in round, circular motions.
Museum Glass® anti-reflection picture framing glass with Conservation Grade UV Protection ..
Showing 1 to 1 of 1 (1 Pages)